TOPIC: FIRST NIGHT AFTER WEDDING CEREMONY
INTRODUCTION
In continuation of the shock and unhealthy behaviors, let us talk about fear of the first coital experience. What I mean is the first time you are experiencing sexual intercourse.
FEAR OF FIRST COITAL EXPERIENCE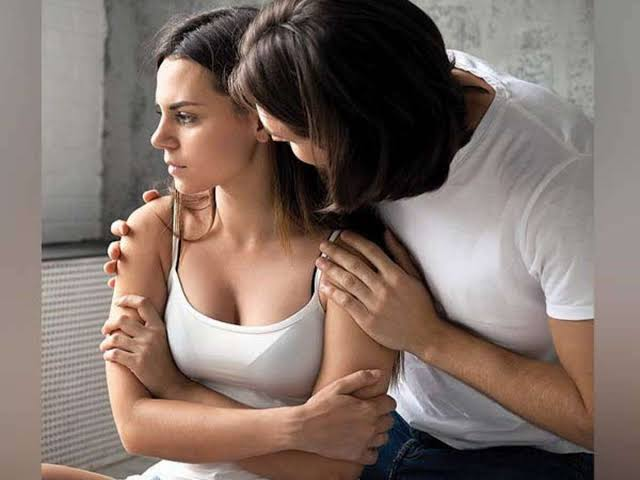 IMAGE SOURCE
It is very difficult for a virgin to easily yield to sexual demands first night after wedding. This is really a very difficult chapter in this book. Many expressions are colored with words. So, bear with us as we read together. So many gospel ministers shy away from this kind of teaching, but it is a real teaching for our youths.
Read this illustration:
A good Christian lady, God fearing young lady married a born again young man. The first night after wedding ceremony, the man demanded to sleep with his wife coitally, the woman ran away and slept in their guestroom.
The following morning, the lady ran back to her pastor and narrated the whole story against her husband.
She said, "I thought that the brother loves me, but I did not know that he wants to lead me into sin".
She added, "If not the grace of God, he would have succeeded. So when he discovered that I was shouting for help, he left me".
She was crying as she was reporting that. She owned that she ran out of bed and bedroom, even did not sleep throughout the night for fear.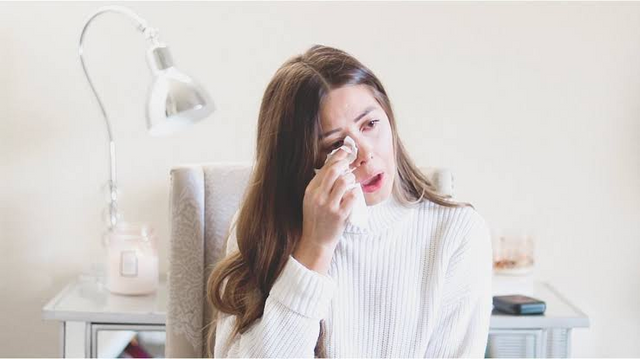 IMAGE SOURCE
The pastor sent for the young man immediately. He took the man privately to confirm what his wife had reported. The young man affirmed it. When the couples were called together, the pastor demanded in their presence that the girl should stay with them overnight for proper orientation. The brother granted the demand.
The lady was not properly educated sexually. She was told of the dangers, sinfulness, etc of sexual acts. She was shocked on the demands and advancements of her husband on the first night after wedding. She ran out of bed and bedroom to the main guestroom where she sat down frustrated till dawn. She considered her husband's advancement as sinful (i.e. fornication). She cried throughout the night. She thought that her husband wants to lead her into fornication which is a terrible sin that leads to hellfire.
They properly indoctrinated her to convictional level, leaving her with a promise to obey and enjoy the provision of God for a happy home procreation and companionship. The girl went back to her husband the following day. Brother, Sister, be properly educated about sexual manners. Why should you fool yourselves?
HOW TO OVERCOME THIS FEAR: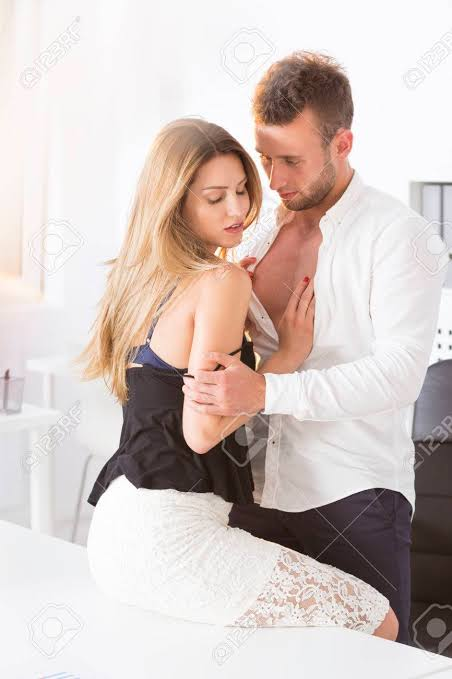 IMAGE SOURCE
I will first address the young sisters before coming to the brothers. The advice in this post is to be taken very serious.
· Get a Vaseline and toilet tissue if you are still a virgin or one who has stayed very long after you had your last coition, the Vaseline will be used on the opening of your vagina to avoid too much pain during the first penetration of the penis.
· The tissue paper will be used to clean the stains mostly if you are a virgin. Really the virgin's experience is very painful. What happens is that when the penis forces itself to enter through the opening of the vagina; there is a small cut of what is known as hymen which covers the opening of the vagina. When it is cut, there will be a serious rush of blood.
· Do not allow that cut to terrify you. The experience proves that you are faithful in your moral purity as a girl. It was celebrative in the Bible time (Deut. 22: 13 – 21). It is a thing to be proud of.
You will be very bold everywhere to say that you remained a virgin until the first night after your wedding.
Every young man loves the holdup at the opening of the vagina of his wife first night after wedding. When your husband experiences such a holdup, the first night after wedding, he will always hold you very highly till death do you path.
Sister, if the penis is introduced to the opening of that vagina, and it enters freely without any holdup:
Your husband will start from that day to doubt your faithfulness till death do you path.
But since you have been broken before your repentance; what you will do to avoid this embarrassment is the following:
Inform your intended partner properly. Plead with him for forgiveness before your wedding mostly during your engagement. He will be lenient, compassionate, and merciful to you. But if he cannot bear it, let him look for another angel.
Surely: If he is properly informed before time, he will never panic when he enters freely on the first night after wedding.
Note this live story:
A good brother in one of the good churches in Nigeria married a sister he supposed to be a virgin. The pretty, beautiful sister was asked by the young man during their engagement whether her virginity is still intact. She strongly affirmed that she was intact. Of course she cleverly deceived the young man to the altar, she was very clever until the officiating minister pronounced
"With power invested on us as the ministers of the gospel and representatives of God we pronounced that this man and this woman are husband and wife: therefore, whatever God has joined together, let no man put asunder".
This couple went to the altar on Saturday and divorced on Monday (i.e. after 48 hours after wedding). The young man reported that he approached the opening of his wife's vagina on Saturday night, only to discover that the "Opening" was an already made express way.
When he discovered that, he could no longer control himself, they started quarreling the same night. The following morning, he went to his mother-in-law with those complains. He concluded that he will not make his trips on an express way made by an unknown man.
The mother-in-law was unable to handle the issue, so he went straight to his pastor. He decided to be suspended and be disfellowshipped instead of traveling on an already made express way by an unknown man. He expelled the wife, sent her parking on Monday. Though that man acted unwisely and unchristianly but let it serve as a lesson to our girls.
· Please sisters inform your intended partners properly before wedding to avoid embarrassment.
· Do not make any noise during the tearing of the hymen.
Your shouting and crying will be used against you. Remember that some of your guests are still around your room. Their ears are wide open to hear the noise from the bedroom. Show your maturity to your husband on bed.
· Do not be shy again, to tell him where he should touch you. You may not like it immediately due to pains.
· Endure it a short time you will soon cope up.
· Show him your sensitive areas such as:
Your lips, tongue, breast and clitoris, your breast in combination with your clitoris (i.e. his mouth on the breast sucking while the fingers will be busy on the clitoris).
That will make you enjoy it and forget the pains.
Sometimes, you may feel a dried up penis.
Tell him to withdraw and apply the Vaseline on his penis. If he does not apply the Vaseline, the penis will seriously wound you inside which will result to treatment.
· If your husband is fast or slow, tell him the speed you need because sexual intercourse is a continuous exercise till death do you path. He does not need to finish up the whole cistern in one outing.
· Tell him when you are sexually satisfied. You do not need to endure coition, rather enjoy it. You will faint if you keep mute to a long duration of coition. He is your husband and he loves you.
MY ADVICE TO THE YOUNG MAN:
It might be that you are ignorant about sexual manners. I went through the same experience. That calls for this post, so that my audience will not go through the same experience. If I will allow you to experience the same, what is the need of being educated on that line?
Before I got this information which I am giving to you free, I went through rigorous experiences. I wounded my wife severely which resulted to treatment with a reasonable amount of money. It was so much that my wife was afraid whenever she remembered coition.
She endured coition for many months. The reason was that I was not informed, educated or enlightened sexually. If you practice my advice, you will not make the same mistakes.
Now listen:
· Do not be in a haste if you will meet your wife the first night after wedding.
· Begin early to put some sexual advances as signals to the mechanism of your wife's body.
· Immediately after the wedding service, start to touch her sensitive areas with tact. Kiss her; slightly touch her breast, etc.
· When you reach home. Be careful to undress her by yourself.
· While you are undressing her, employ kiss, caress and sweet words. Make sure you pull off her innerwear by yourself.
· Advance to her breast and suck it gently, properly and satisfactorily before you go to the bathroom. In the bathroom, be a man and bath her by yourself. Touch everywhere as you are bathing her. While doing that your penis might erect very high. Brother; it is not yet time to go inside her.
· Discover the location of the clitoris because it is the highest exiting, sensitive and sex arousing point in every female. While the penis is the highest sex arousing point in every male.
WHERE IS THIS CLITORIS?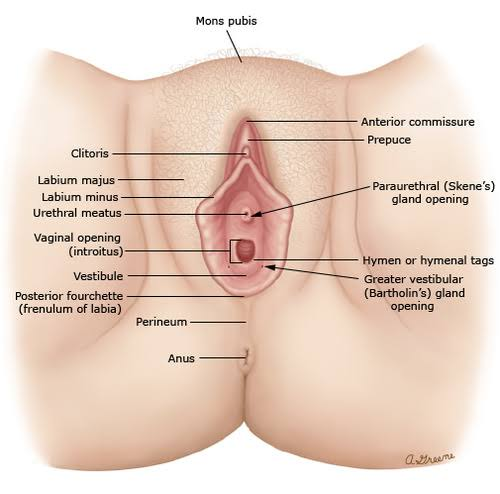 IMAGE SOURCE
It is found on the top of the upper part of the lips of the vulva, on top of the urethra before the opening of the vagina.
When you discover it, rub it with your fingers as your month and tongue are on her breasts.
After few minutes, you notice some wet on the opening of the vagina of your wife. Reason is that, the glands which connect the breast with the clitoris will begin to secrete some juice. The secretion of these juice will make the clitoris to be erected (i.e. it will rise to a certain level above its natural size). Wait still; it is not yet time to enter.
If your wife is still a virgin, please do not use her in the bathroom this time. If you do, the world around you will notice it and blame you. But you are free if she is an already made expressway. Both of you will enjoy the bathing very well. It is normal; there is no sin in it. The first bathroom experience is only exciting when both of you have not seen your nakedness before wedding. But if you have seen the nakedness of each other before, there will be no excitement in it. It will become the old, familiar nakedness.
And that is foolishness to have seen each other's nakedness before wedding. If such is the case, what is the need of wedding? As you are touching all her body and sensitive areas tell her to start caressing your penis and scrotum with her fingers or tongue. There is no sin in it, she is your wife.
If you are to meet in the night, control yourselves after the bathroom excitement; wait until night. When the night comes, start to caress her again until she informs you that she is set. Do not jump on her when she has not told you of her readiness. If you do, you alone will enjoy it while she will endure.
Remember that she is your wife:
Therefore, when you see blood rushing out. Please! Please!! Please!!! Withdraw with pity. Inquire from her whether you are to continue or not. If she says '"Stop" Please postpone the exercise. It is not good for her to be in pains and endurance instead of enjoyment.
Her pleasure during coition is highly important as well as yours. Both of you should enjoy coition, else the coition is not matured.
The first night is always exciting that some couples find it difficult to sleep. After resting for a round they start another and another until day breaks. In the morning, they will become very tired and weak as if they had night vigil.
Before I shift to another point, Brother; listen very well, immediately you have any ejaculation, Please take a cool cup of water or bottle of malt. That will replenish the lost energy during ejaculation. It will help you to be very strong and healthy throughout your honeymoon. If you do not keep to this instruction, you will soon break down.